Grubs Rainline High Boot for Lawn & Garden
99
Details
FEATURES:
5.0 TECHNOLOGY™ - A moisture wicking terry knit liner for ultimate 
SUPER-DRI™ lining
UNDER FOOT CHASSIS™
2mm Natural Rubber Shell
Self Hardening Layers Of Epoxy Impregnated Material
Operate in Temperatures 70 to -5 Fahrenheit
TRAK™ sole featuring Hexzorb™ shock-absorbing technology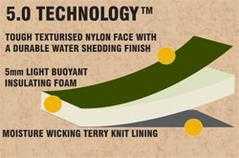 All Grubs footwear uses self-insulating INSU-FOAM ULTRA bootie construction which acts as a neutral medium between the wearer and the outside.
This unique super stretch material is commonly used in deep sea dry suits, and  has a 300% stretch rating. It is then covered with a 4 way stretch knitted nylon jersey which as suggested can expand not only in width but also height.
In our 5.0 TECHNOLOGY™ boots the bootie is lined with moisture wicking terry knit, which keeps the wearer dry and has a super stretch to fit most calves. As INSU-FOAM ULTRA™ is a temperature neutral material it will keep the wearers foot comfortable in most conditions for a prolonged period.

TEMPERATURE RANGE 70 °  to -5 ° Fahrenheit