Polyver Boots Size Guide
KNOW YOUR SIZE.
Before shopping for boots, make shore you know your size! Please read our size guide below; different models in our collection have slightly different fit.
HOW TO MEASURE THE FOOT LENGTH.
Stand straight, and distribute your body weight evenly before you measure, feel free to measure with socks.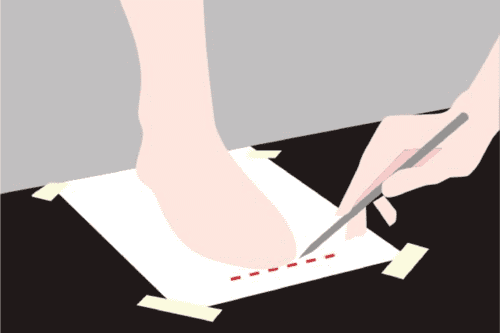 STEP 1.
Stand up straight on a hard surface with your heel against the wall and a piece of blank paper taped to the floor, flush against the wall beneath your foot.
STEP 2.
Have someone mark the longest part of your foot (referred to as heel-to-toe length) on the paper with a pen or pencil, or measure yourself if necessary. Repeat with the other foot, as right and left sizes may be different.
STEP 3.
Use a ruler to measure the heel-to-toe length you marked for each foot.
FIND YOUR SIZE.
The mm sizes on the chart size are the exact lenght of the last.
To determine what size to choose, you will need first to measure your foot. Then depending on your preferred fit (tight or roomy), please allow 8 mm extra length when choosing your size to give your toes some room. All Polyver® products are unisex sizing.
Ex: You measure your foot and it is 242 mm in size which is a size 39 (+8mm).
Please note that the size table is intended as a guide only. Sizing may vary due to the individual fit.
POLYVER WINTER BOOT SIZE CHART - KIDS.
POLYVER CLASSIC WINTER BOOT SIZE CHART - ADULTS.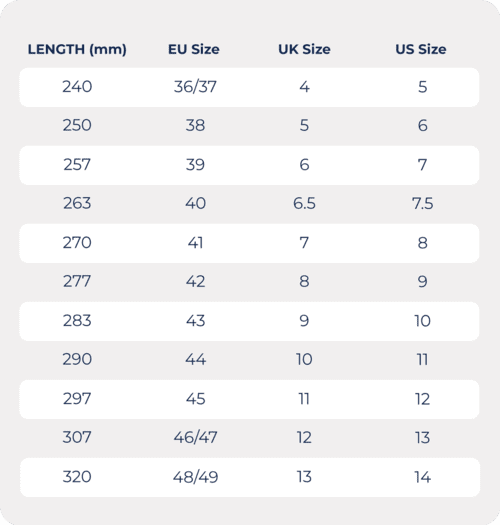 POLYVER PREMIUM BOOT SIZE CHART - ADULTS.
POLYVER WINTER RS BOOT WITH REMOVABLE SOCK SIZE CHART - ADULTS.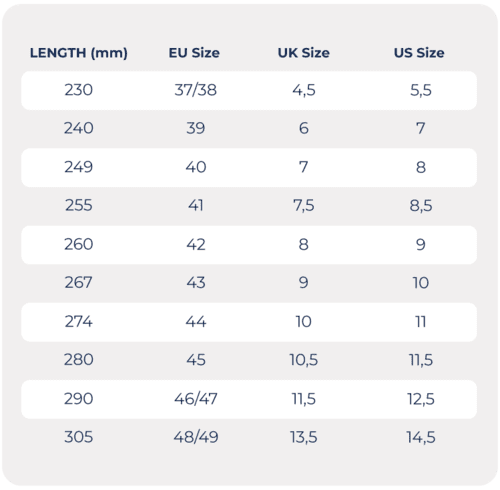 POLYVER SAFETY BOOT SIZE CHART - ADULTS.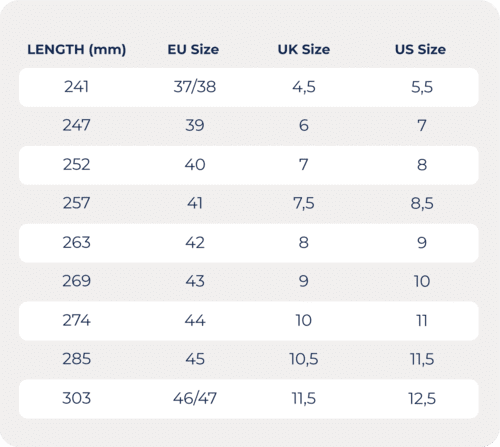 Grubs Boots Size Guide
| | | | | | | | | | | | |
| --- | --- | --- | --- | --- | --- | --- | --- | --- | --- | --- | --- |
| UK | 3 | 4 | 5 | 6 | 7 | 8 | 9 | 10 | 11 | 12 | 13 |
| EUROPEAN | 35/36 | 37 | 38 | 39/40 | 41 | 42 | 43 | 44/45 | 46 | 47 | 48 |
| USA Men's | | | | 7 | 8 | 9 | 10 | 11 | 12 | 13 | 14 |
| USA Women's | | 6 | 7 | 8 | 9 | 10 | | | | | |
| Japanese (cm) | 230 | 240 | 250 | 260 | 270 | 280 | 290 | 300 | 310 | 320 | 330 |
| STICHT length (mm) of the LAST | 236.16 | 244.62 | 253.08 | 261.54 | 270 | 278.46 | 286.92 | 295.38 | 303.84 | 312.3 | 320.76 |
| Last marked size | UK 3 | UK 4 | UK 5 | UK 6 | UK 7 | UK 8 | UK 9 | UK 10 | UK 11 | UK 12 | UK 13 |